Tree & Lawn Service in Buechel, KY
Time to Beautify! Tree, Landscape, and Lawn Care Service, Buechel, KY
Does your lawn need a professional touch? Call Greenworks Lawn, Landscape & Tree—and get quality lawn care today!
We bet you've decorated the interior of your Buechel home to fit your design tastes—and most people spend several minutes or hours a day, making sure it stays tidy and organized. You likely also put time and attention into keeping your hair and body well-groomed, trying to look attractive and appealing. Most of us tend to care so much about the beauty and health of ourselves or our homes that we may forget that our yards need beautification treatments, too!
Taking care of your yard means more than just mowing the grass. Here's a challenge—go out and stand in front of your property and survey it with a newcomer's eye. Walk around the property and assess it objectively. What impression do you get? Could you add more flowering plants or shrubs around the edges of your house? Would a few trees add color or shade? Do you have patchy spots that need some doctoring to get a nice, green turf?
We can help! At Greenworks Lawn, Landscape & Tree, we're a fully insured and accredited landscaping company with over 15 years of landscaping experience, ready to provide you in Buechel, KY, with exceptional tree and lawn services—at affordable rates.
Just check out our customer testimonials, and you'll find that we're a fast, professional, and knowledgeable local business ready to make your lawn look better than ever. No matter what the job you hire us for, we guarantee that the finished product will wow you, your neighbors, friends, and family alike!
Lawn Care in Buechel, West Buechel, and Jefferson County, KY
As mentioned above, your lawn plays just as important a part as the rest of your home in making a good first impression on guests. Our Greenworks team of lawn-care experts is dedicated to making sure that you can show off your yard with pride.
When you hire us, we'll perform a comprehensive survey of your lawn to determine its specific needs and then develop a step-by-step plan involving several thorough treatments, each designed to keep your lawn in tip-top shape. These treatments include servicing like:
● Grass Cutting/Mowing – Our professional technicians will thoroughly cut your grass to a proper, uniform height with meticulously maintained equipment.
● Grass Growing/Overgrowing – Our Greenworks lawn care specialists will spot-plant grass seed over bare patches in your lawn, expertly measuring the amount so that the new grass grows to the same length as the old.
● Yard Aeration – Our technicians use a tool to unpack hard soil to promote more efficient water absorption, healthy root growth, and stronger insect protection for any plants growing on your lawn.
Tree Service
Fully grown trees can serve as beautiful parts of the scenery, adding to any residential or commercial property's natural charm. However, trees require more TLC and maintenance than most people realize—to keep them both healthy and out of the way. Our fully accredited and insured Greenworks team will provide stellar tree and lawn services to help you tend to trees up to 120 feet tall.
Our arborists can ably:
• prune trees of dead or sucker branches that sap vitality from the trunk
• diagnose any pest or disease that's infesting a tree and safely treat the problem
• file down stumps to remove them from the yard
We even provide all-day emergency tree removal to help clients get rid of uprooted trees that have fallen on their property. Be sure to contact us on our website, and you can schedule a consultation today!
Landscaping
At Greenworks, we won't just help you maintain your yard—we'll help you turn it into the yard of your dreams. Our design team will consult with you to determine what you envision for your lawn and then provide an expertly made roadmap of what we need to do to get there.
If you own a commercial business or otherwise don't have the time in your schedule to take care of your yard, you can sign up for our Landscape Maintenance program. A team of Greenworks landscapers will regularly come out to your property and personally handle your land's upkeep. To do this, we'll set you up with a monthly payment plan. Our program includes services like:
● Flower Installation – Our technicians plant seasonal flower arrangements in the yard based on your preference.
● Shrub Trimming – We will prune your shrubs and trees periodically, clipping overgrown hedges back into more appealing shapes. We also trim off any dead or diseased leaves to keep the shrub healthy as a whole.
● Leaf Clean-Up – We will swiftly and properly dispose of any fallen leaves or other debris that's littered the yard, to keep your property looking well-cared-for.
● Grass Maintenance – We mow and hand-trim areas of your lawn according to grass type to maintain the optimal height. We also seed and fertilize bare patches to promote fast growth.
At Greenworks, we provide these and other premium landscaping program services for properties in Buechel, KY, all matched to your budget.
For fast, professional service, please call us at 502-369-0399 and hire Greenworks Lawn, Landscape & Tree today!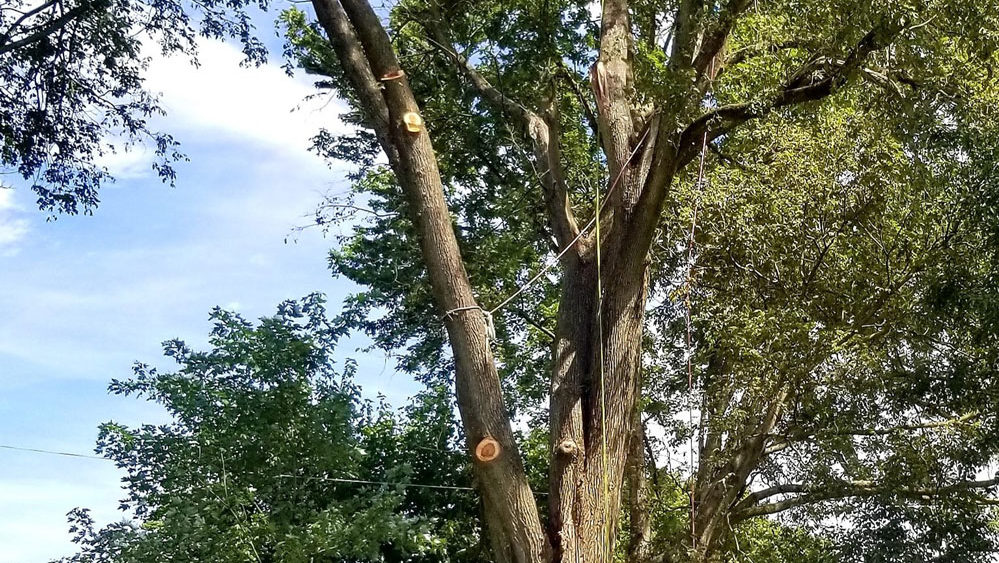 Fully Insured, Equipped, and Accredited.
Service for every season.
GREEN

WORKS Lawn & Tree can do it for you!
GREENWORKS Lawn, Landscape & Tree, LLC provides professional, affordable care for your commercial or residential property in Southern Indiana, Louisville, Kentucky and surrounding areas.
• Louisville, KY
• Jeffersontown, KY
• Jefferson County, KY
• Oldham County, KY
• Prospect, KY
• Saint Matthews, KY
• Shively, KY
• Middletown, KY
• Buechel, KY
• Fairdale, KY

Dedicated

Tree Professionals
©2021 GREENWORKS LAWN, LANDSCAPE, & TREES, LLC.