Tree & Lawn Service in New Albany, IN
Tree and Lawn Service in New Albany, IN
Keeping your lawn healthy keeps your family happy. Call Greenworks Lawn, Landscape & Tree LLC today!
Thanks to the nearby Ohio River, Southern Indiana has rich and fertile soil that helps create a beautiful landscape for all of us to enjoy. At your home or business, too, the nutrient-rich soil will contribute to an exquisite yard.
To make the most of that potential, a professional landscaping and lawn care service can maximize your property's beauty. At Greenworks Lawn, Landscape & Tree LLC, we can help keep your property in New Albany, IN, looking and performing at its best.
We offer full landscaping, lawn care and maintenance, snow service, tree trimming, and stump removal. We also have annual programs to help keep your family's property in tip-top shape year-round. Our customers are delighted with all the services we provide, as you'll see by reading our customer reviews.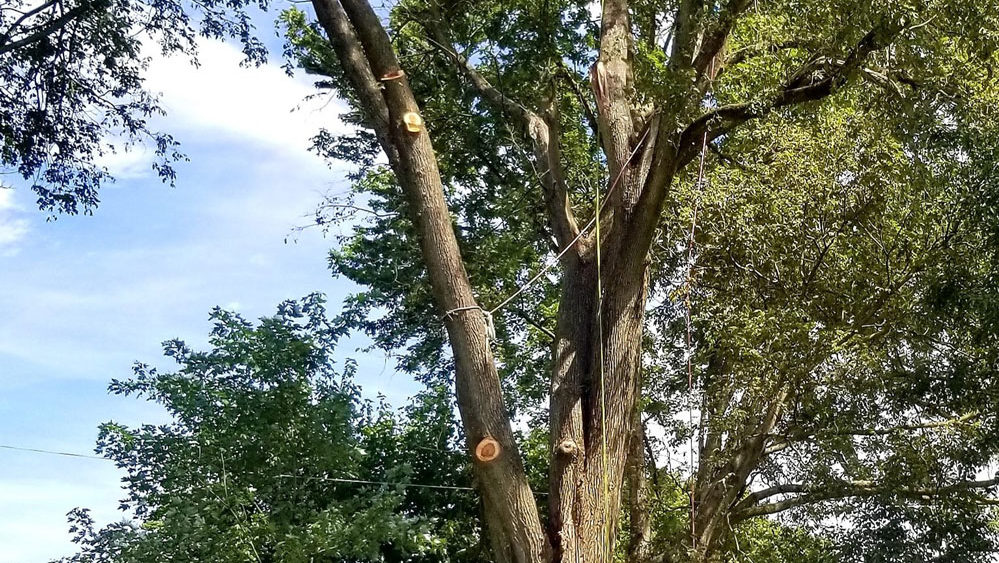 Tree Service
Trees need regular maintenance like trimming, pruning, and thinning just to stay healthy and strong. Whether you have bushes or 120-foot-tall pine trees, we can take care of all of them for you. At Greenworks Lawn, Landscape & Tree LLC, we provide safe and effective tree trimming services needed to keep your trees in shape and living a long life.
Dying or dead trees can cause property damage during a storm. Tree roots can cause plumbing problems and, more frequently, crack a home's driveway or foundation—all leading to even more significant and costly issues for home and business owners.
Unfortunately, while we don't like to cut down trees, it is sometimes necessary. We can suggest which trees to remove, what type of tree is a better choice for your property, and where to plant a tree so that it will stay safe.
Beyond trimming and pruning limbs, our skilled team can remove trees altogether that are causing problems, as well as their stumps. At Greenworks Lawn, Landscape & Tree LLC, our tree experts have the skills, knowledge, experience, and equipment to handle any tree job you've got for us.
Landscaping
Whether you're tired of looking at your neglected lawn or you just need some help keeping it well-maintained, Greenworks Lawn, Landscape & Tree LLC is here for you. Our expert landscapers know how to control weeds and fertilize lawns so that they will stay lush and beautiful all year long.
We have the hardworking technicians, knowledge, and equipment to provide:
● Land clearing and prepping
● New sod installation
● Care for delicate flowers and unruly plants
● Pulling weeds, pruning shrubbery, and adding fresh mulch
● Installation and maintenance of irrigation systems
At Greenworks Lawn, Landscape & Tree LLC, we specialize in professional landscaping services such as design, installation, and maintenance. We help businesses and families who own commercial and residential properties alike. We also provide free estimates for our services in the New Albany area, so give us a call today for more information.
Lawn Care
At Greenworks Lawn, Landscape & Tree LLC, our local lawn care specialists call the New Albany area home just as you do. Our technicians provide professional lawn care services like lawn mowing, weed eating, edging, aerating, seeding, fertilizing—and then we clean up when we've finished.
Over time, the ground under your lawn naturally becomes compacted, which prevents plants and grass from growing well. Our aeration techniques create larger pores for water to flow through, thus allowing your lawn to absorb it and flourish beautifully. If you're interested in our lawn care services, contact us for a free estimate today, and we'll come to assess your lawn's situation.
Snow Removal Services
On most cold days, the amount of snow in New Albany can be tolerable. However, there are times when we can't leave our houses because we've got two feet of snow in the driveway. Schedule now with Greenworks Lawn, Landscape & Tree LLC for snow and ice removal throughout the winter. We'll get it done quickly and efficiently.
Our skilled and insured technicians will remove snow and ice from walkways, driveways, and parking lots regularly throughout the season. We will be there bright and early, ready to help keep your household or business running smoothly.
Contact Us for Four-Season Yard Service
At Greenworks Lawn, Landscape & Tree LLC, we make outdoor chores a breeze! Not only do we have highly skilled, insured workers, but we've got the right tools and equipment to handle any lawn issue you might be having. We can handle any job from mowing lawns to installing new sod. We trim bushes and cut down tall trees, then grind the stumps.
We'll bring bucket trucks and cranes to assist in clean-up after wind or ice storms hit our area, as well as snowplows to clear your driveway after heavy snow. Our big equipment enables us to help our community whenever a storm affects our area, whether in New Albany or throughout Floyd County, IN.
Please call us about our lawn and tree services in New Albany, IN. Contact Greenworks Lawn, Landscape & Tree LLC at 502-369-0399 today for information or a free estimate.

Fully Insured, Equipped, and Accredited.
Service for every season.
GREEN

WORKS Lawn & Tree can do it for you!
GREENWORKS Lawn, Landscape & Tree, LLC provides professional, affordable care for your commercial or residential property in Southern Indiana, Louisville, Kentucky and surrounding areas.
• Louisville, KY
• Jeffersontown, KY
• Jefferson County, KY
• Oldham County, KY
• Prospect, KY
• Saint Matthews, KY
• Shively, KY
• Middletown, KY
• Buechel, KY
• Fairdale, KY

Dedicated

Tree Professionals
©2021 GREENWORKS LAWN, LANDSCAPE, & TREES, LLC.