Tree & Lawn Service in Sellersburg, IN
Hire Our Tree & Lawn Service to Clean Up Your Property in Sellersburg, IN
We are your trusted and reliable tree and lawn service in Sellersburg, IN. Contact us today for a consultation or estimate.
When you have a property in Sellersburg you must tend to, there are several things to manage. Keeping your property in the best condition takes quite a lot of work. You are tending to the interior, exterior, utilities, home decor, and much more.
Your lawn, however, can be tricky. We offer a tree and lawn service in Sellersburg, IN, that will work with you to make your property look perfect. Tree services, landscaping, mowing, snow service, and more are available. Call us for an appointment or consultation.
If you need more information about our services and customer care, be sure to check out the reviews from our happy customers.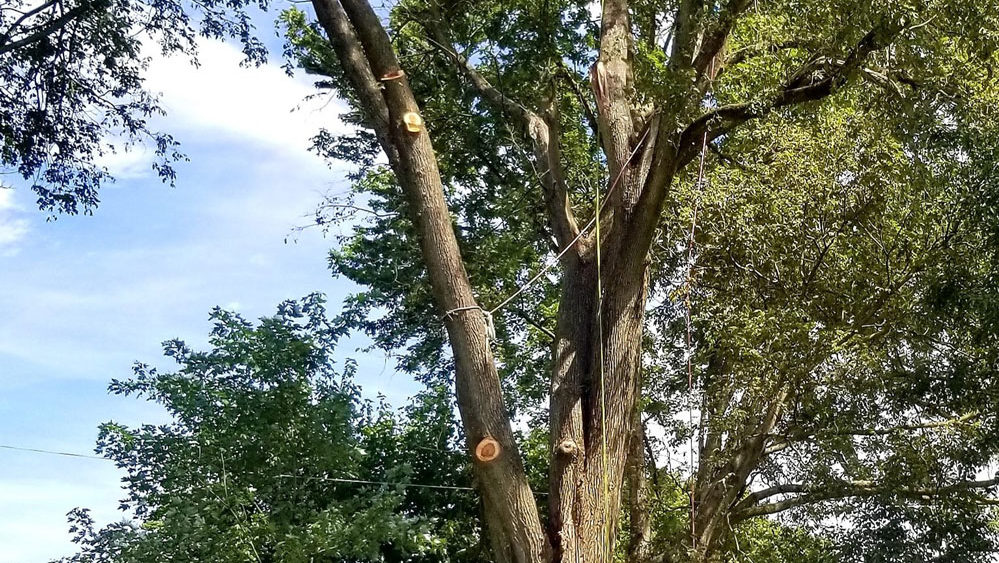 Tree Services
Our tree services include:
● Tree removal
● Tree trimming
● Stump grinding
● Tree installation
● Emergency tree removal
● Special machines and equipment
When you feel like a tree is close to falling over, you hear creaking, or the tree sways too much in the wind, give us a call. It might be time to remove it or trim it to avoid further damage.
We can bring down a tree quickly, cut the top to prevent overgrowth, remove branches to prevent damage to your home or injury, and even move trees if they are too close to your house.
We offer stump grinding after we have felled trees on your property, or we can grind unsightly stumps that were left behind by previous owners.
We also plant trees if you would like to create a border around your property or transplant a special tree that complements your home's aesthetic.
We also respond to emergencies if a tree has fallen in the night or early morning. This can be a scary experience for any family, and we can get the tree off the property or out of your home so that repair and recovery can begin.
Landscaping
Our landscaping services include:
● Flower and plant care
● Irrigation and drainage
● Spring/fall cleanup
● Mulching and edging
● Shrub trimming
● Sod installation
Landscaping services include planting gardens, flowers, shrubs, bushes, trees, and grass. We can design a brand-new landscaping style for the property, maintain your current landscaping design, or completely clean up an old property that needs to be refreshed.
We understand how to add irrigation systems and/or create proper drainage. We will mulch and edge the property to keep the design as clean as possible, trim your shrubs, and install sod if needed.
We will schedule appointments for your services and explain how often each service should occur. Tell us what you want, and we will create a customized plan for your Sellersburg home.
Lawn Care
● Grass Cutting
● Sod Maintenance
● Grass Seed
● Weed Control
● Fertilization
● Aeration
Homeowners often spend too much time and money on their lawns. We can help you save money and give you all the services you need. Grass cutting helps maintain a healthy lawn that looks trim and beautiful. Your neighbors will be envious, and you do not need to struggle to mow the lawn on your own.
We can maintain sod that was installed previously or that we have brought to the property. Because sod can be so finicky, we create a custom plan for each property to keep the sod as healthy as possible.
We can plant grass seed if you would like to add grass to dead patches on the property. We can also renew grass seed every year as the weather warms in the spring.
Once the grass is laid down, we remove weeds and control them using specialized herbicides. Plus, we can aerate the soil on your property before planting when necessary.
Snow Services
We even offer a snow service to remove snow and ice from driveways, residential streets, parking lots, and service roads. Our snow service helps you get to work, keeps your neighborhood safe, or prepares your business for the arrival of employees and customers. Schedule a consultation with us today so that we can provide you with regular or emergency snow services.
Contact us today for help when you need assistance with your trees, lawn, or garden in Sellersburg.
Reach out to us at Greenworks Lawn, Landscape, & Trees, LLC today at 502-369-0399 for help with all your landscaping needs in Sellersburg, IN. We make your property look flawless and bring your gardens back to life.

Fully Insured, Equipped, and Accredited.
Service for every season.
GREEN

WORKS Lawn & Tree can do it for you!
GREENWORKS Lawn, Landscape & Tree, LLC provides professional, affordable care for your commercial or residential property in Southern Indiana, Louisville, Kentucky and surrounding areas.
• Louisville, KY
• Jeffersontown, KY
• Jefferson County, KY
• Oldham County, KY
• Prospect, KY
• Saint Matthews, KY
• Shively, KY
• Middletown, KY
• Buechel, KY
• Fairdale, KY

Dedicated

Tree Professionals
©2021 GREENWORKS LAWN, LANDSCAPE, & TREES, LLC.