Tree & Lawn Service in Clarksville, IN
Tree and Lawn Service in Clarksville, IN
Are you dreaming of a beautiful, desirable yard? Contact the pros at GREENWORKS Lawn, Landscape & Tree Service today!
Our soil in Clarksville is extremely nutrient-rich since the Ohio River nourishes it. This fertile land creates great landscaping possibilities for our lawns! To enhance your lawn, be sure to call in a professional.
At Greenworks Lawn, Landscape & Tree LLC, we are your local lawn service—offering top-quality landscaping, tree trimming, and snow services to the Clarksville, IN, area. We proudly maintain an A+ rating with the Better Business Bureau (BBB).
Our technicians use the most effective tools and equipment to perform safe, quality, and efficient lawn and tree care to our area's residents and businesses. We provide liability and worker's comp insurance to cover our highly skilled and hard-working landscapers.
At Greenworks Lawn, Landscape & Tree LLC, we know that maintaining a well-landscaped lawn or shoveling snow can be hard work, and we are here to help you, as we've happily helped thousands of customers over the years. However, don't just take our word for it—read our customer reviews to see why folks in Clarksville have been calling us since 2005.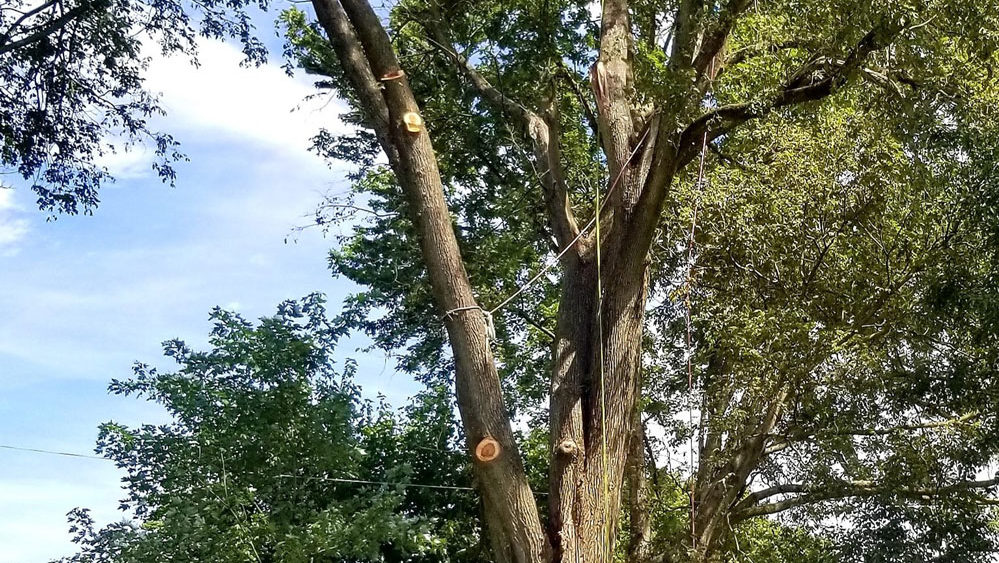 Tree Services
For trees to stay healthy, they require pruning or trimming of deadwood and sucker branches. Problematic branches can damage homes and property if we do not adequately maintain the trees.
Our team at Greenworks Lawn, Landscape & Tree LLC will come to your home or business to assess whether we need to trim or remove some of your trees.
We don't like to have to cut trees down. Sometimes, though, there's no other choice. A tree may need chopping for several reasons, including if it is:
● Planted too close to your home
● Growing roots near your driveway or home's foundation
● Growing roots around your plumbing or sewer lines
● Sick, dying, or dead
● Needing clearance to start new construction
● Leaning or unbalanced, causing it to uproot in a storm
After we carefully down a tree—a high-risk procedure involving removing sections of the tree beginning in the top branches—we provide the heavy equipment needed to dispose of the remains. We also offer stump grinding services to remove the tree from your property completely.
If you need a dependable, safe, and experienced tree removal service, please call us at Greenworks Lawn, Landscape & Tree LLC today for a free consultation with an arborist.
Landscaping
If you've always dreamed of having a beautifully landscaped yard, trust Greenworks Lawn, Landscape & Tree LLC to bring your dream to fruition. Our expert landscape designers bring the experience to install and maintain plants, flowers, trees, and sod to keep your yard looking beautiful year-round.
We can handle both small jobs, like installing a Fall flower garden, as well as large jobs such as clearing and preparing land for the construction of new homes or businesses.
Greenworks Lawn, Landscape & Tree LLC can lay new sod and add plants and trees that will thrive in your yard. Our technicians will trim and prune shrubs, lay fresh mulch, aerate the ground, and even install and maintain irrigation systems.
Call us to consult about your landscaping needs, and then we'll give you a free quote for our services.
Lawn Care
At Greenworks Lawn, Landscape & Tree LLC, we employ highly skilled technicians with years of knowledge and experience to create and maintain a lasting, beautiful lawn.
Whatever lawn care service you need—from mowing, edging, and weed control to seeding, fertilizing and aeration—Greenworks Lawn, Landscape & Tree LLC will be there to tackle the job for you. After we finish, we'll clean-up our mess, too. If you have questions about our lawn care, contact us to learn more.
Snow Services
Snow can be such a beautiful thing, but when you're trying to get to work or school or run a business, it can be a real pain. At Greenworks Lawn, Landscape & Tree LLC, we provide complete snow plowing and ice removal services to make sure that everyone in your family can get back to school and work safely.
Our scheduled snow service is available for residents and businesses in the Clarksville area. Whether you need a sidewalk ice-free for people walking by—or a driveway or a parking lot cleared so your customers can get in the front door of your business—be sure to sign up with us now for reliable snow and ice removal services when you will need them most.
Contact Us for a Consultation and a Free Quote
We are a four-season company, keeping your yard in shape from lawn mowing in summer to snow removal in winter. You can contract with us for convenient annual packages, paid in monthly installments, to ensure that you'll have full yard care throughout the year.
Contact Greenworks Lawn, Landscape & Tree LLC in Clarksville, IN, at 502-369-0399 today for information about our services and get a free estimate!

Fully Insured, Equipped, and Accredited.
Service for every season.
GREEN

WORKS Lawn & Tree can do it for you!
GREENWORKS Lawn, Landscape & Tree, LLC provides professional, affordable care for your commercial or residential property in Southern Indiana, Louisville, Kentucky and surrounding areas.
• Louisville, KY
• Jeffersontown, KY
• Jefferson County, KY
• Oldham County, KY
• Prospect, KY
• Saint Matthews, KY
• Shively, KY
• Middletown, KY
• Buechel, KY
• Fairdale, KY

Dedicated

Tree Professionals
©2021 GREENWORKS LAWN, LANDSCAPE, & TREES, LLC.