Tree & Lawn Service in Shively, KY
Shively, KY, Tree and Lawn Service
We're a one-stop-shop for all your commercial and residential landscaping needs. Call today!
Whether you just need your lawn mowed or your entire property landscaped, when it comes to tree and lawn services in Shively, KY, you can count on our team at Greenworks Lawn, Landscape & Tree, LLC.
We are accredited, equipped, insured, and have the experience to keep your property looking its best year-round. We stand behind all our work with a 100% satisfaction guarantee and are available 24/7 for emergencies. If a tree falls across your driveway, there's no need to wait until you're late for work—give us a call, and we'll be there fast.
Have a look at our customer reviews to see why so many Shively home and business owners choose us as their tree and lawn care company.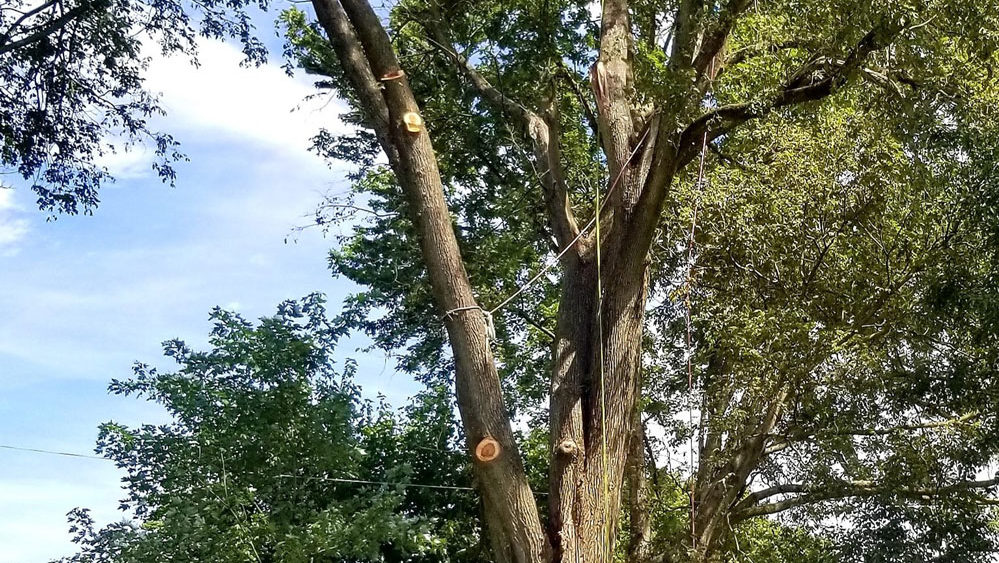 Tree Services
While there's no doubt that trees can enhance the beauty of your property, they can become problematic if they are damaged or grow too close to homes, driveways, pipes, septic systems, and other structures.
Our team can not only help ensure that your trees thrive but that they don't present a risk to your property or anyone on it. We handle all aspects of Shively tree care:
● Shrub and Tree Trimming: Keeping your trees trimmed improves growth and reduces the chance of limb loss in storms.
● Tree Removal: From tiny trees to trees over 120 ft. tall, we make tree removal a seamless and safe process. We even have our own cranes and equipment, so there's no need to wait around for a third-party to get the job done. By choosing Greenworks Lawn, Landscape & Tree, LLC, you'll save time and money!
● Stump Grinding: Stumps attract nature in all forms, from animals to termites and other pests. We offer stump grinding, even below grade.
● Tree Planting: Our specialists can select trees suited to your soil and light levels while aligning with your personal preferences. Each tree is transported and planted with the utmost care, ensuring you can enjoy your new tree—or trees—for decades.
Lawn Care
Having a lush and green lawn not only provides curb appeal, but it allows you to truly get the most out of your yard while reducing your chance of pest infestations. At Greenworks Lawn, Landscape & Tree, LLC, we're a full-service lawn care company—and we do mean full-service.
Our team can handle every aspect of lawn care from sod installation and seeding to fertilization and upkeep:
● Grass Cutting/Mowing: Simplify weekly mowing and trimming—we'll take care of everything!
● Grass Seeding and Overseeding: Whether seeding, reseeding, or overseeding, we do it all.
● Sod Installation: Looking for an instant lawn? Sod installation is the answer. We can take a dirt plot and turn it into lush, green grass in no time.
● Weed Control: Dandelions, crabgrass, and other hard-to-eliminate weeds are no match for our experienced team. Even better, we rely on eco-friendly options that won't hurt the environment.
● Lawn Fertilization: It doesn't take much to grow a lawn in Shively, but it takes a lot to keep a lawn healthy—primarily the right levels of phosphorus, nitrogen, and potassium. We'll utilize science to keep your lawn looking flawless.
● Yard Aeration: Roots need room to grow, but soil compaction and crowding can stunt growth or, worse, kill plants and grass. Our aeration service helps roots grow strong and stand up to disease and bug damage.
Keep your lawn beautiful without the hassle—get started with one of our convenient lawn care service plans.
Landscaping
While lawn and tree care may be the foundation of our landscaping services, we offer a lot more than that! After all, we couldn't call ourselves a one-stop lawn and landscaping company if we didn't provide:
● Flower and Plant Care: Get the yard of your dreams with the help and advice of our knowledgeable experts.
● Mulching: Keep your plants' roots at the proper temperature while retaining moisture with just the right amount of attractive mulch.
● Irrigation and Drainage: Whether your yard is too wet or too dry, we can ensure water gets where it needs to be on your property to keep your landscaping lush and your soil intact.
● Spring, Fall, and Storm Clean-Up: No matter the weather or season, our team will keep your yard/land looking great.
Shively's Top Tree and Lawn Service Company
Your lawn and landscaping have a significant impact on the appearance and safety of your property. Put your trust in a tree and lawn service company you can rely on. With over 15 years of experience, your yard is in good hands with our professionals.
Call Greenworks Lawn, Landscape & Tree, LLC, at (502) 369-0399 today to discuss your tree and lawn care needs in Shively, KY.

Fully Insured, Equipped, and Accredited.
Service for every season.
GREEN

WORKS Lawn & Tree can do it for you!
GREENWORKS Lawn, Landscape & Tree, LLC provides professional, affordable care for your commercial or residential property in Southern Indiana, Louisville, Kentucky and surrounding areas.
• Louisville, KY
• Jeffersontown, KY
• Jefferson County, KY
• Oldham County, KY
• Prospect, KY
• Saint Matthews, KY
• Shively, KY
• Middletown, KY
• Buechel, KY
• Fairdale, KY

Dedicated

Tree Professionals
©2021 GREENWORKS LAWN, LANDSCAPE, & TREES, LLC.