Tree & Lawn Service in Middletown, KY
Middletown, KY, Tree and Lawn Service
For top-notch tree and lawn services in Middletown, choose Greenworks Lawn, Landscape & Tree, LLC.
From lawn mowing to full-scale landscaping, if you're looking for quality tree and lawn services in Middletown, KY, Greenworks Lawn, Landscape & Tree, LLC, is the company to call. We are accredited, equipped, and insured with over 15 years of experience. Our team will go above and beyond to ensure that your yard looks better than ever before.
We're also available 24/7, 365 days a year. Whether a tree blocks your driveway, or you run a business and need after-hours service, we're here for you when you need us.
Check out our customer reviews to see why we're the top tree and lawn service company in Middletown!
Tree Services
Trees make a stunning addition to nearly any property, but without proper care, they can become a liability. Disease or overgrowth can lead to weak limbs. Roots can damage structures, plumbing, and more. Our professionals can ensure that your trees are healthy and safe with a wide range of services:
● Shrub and Tree Trimming: Trimming promotes healthy growth and will keep your trees strong enough to stand up to whatever Mother Nature can dish out.
● Tree Removal: We have our own crane and can safely and cost-effectively remove trees of all sizes—from mere seedlings to massive 120-foot monsters.
● Stump Grinding: Get rid of that unsightly stump that's attracting pests. Our skilled team will grind it down beneath the grade.
● Tree Planting: We understand the climate here in Middletown and can help you select the perfect species for your property. Our team will treat your new tree, or trees, with the care they deserve, both during transport and the planting process, to ensure you can continue to enjoy them for years to come.
Landscaping
For businesses and residential buildings alike, we provide the best landscaping services in Middletown. We're a truly full-service tree and lawn service company and can handle all aspects of property care.
● Flower and Plant Care: Our experts can help you plan and plant the garden of your dreams with climate-appropriate, low-maintenance options.
● Irrigation and Drainage: To ensure lush plant growth and prevent soil erosion—possibly even structure damage—your yard needs proper irrigation and drainage. We can make sure that's exactly what you have.
● Spring, Fall, and Storm Clean-Up: Whether a major storm has your property a mess or it's just the changing of the seasons, we're happy to help get things back to looking their best.
● Mulching and Bed Edging: Keep your flower beds looking neat while insulating your plants and trees with our reliable mulching and bed edging services.
● Sod Installation: Don't have a lawn? That's not a problem when you work with our team at Greenworks Lawn, Landscape & Tree, LLC. We can install sod and turn even the rockiest, empty lot into a cushy carpet of grass.
Want a lawn but don't have time to care for it or schedule services each month? Sign up for one of our lawn care service plans.
Lawn Care
Whether the weather, weeds, or a furry friend has made your lawn look less than fantastic, or you want a whole new look for your Middletown business, we offer the lawn care services you need. We pride ourselves on providing a one-stop solution to landscaping and aim to make having the yard you've always wanted hassle-free.
● Grass Cutting/Mowing: We'll keep your lawn well-maintained with weekly mowing, trims, and striping where needed.
● Grass Seeding and Overseeding: If there are bald patches or grass that is thinning, our team will treat and spot seed as needed to match your existing lawn. We also offer overseeding to thicken grass where needed.
● Weed Control: If you have crabgrass, dandelions, or other weeds, you can count on us to get them under control and ensure they don't come back.
● Lawn Fertilization: Fertilization can be a tricky business—both too little or too much will leave your lawn spotty and unhealthy. We'll make sure to use the perfect mix of nutrients to keep your lawn looking flawless.
● Yard Aeration: Soil compaction and root crowding can lead to damage from bugs and disease. Our yard aeration service will help your grass grow to its full potential.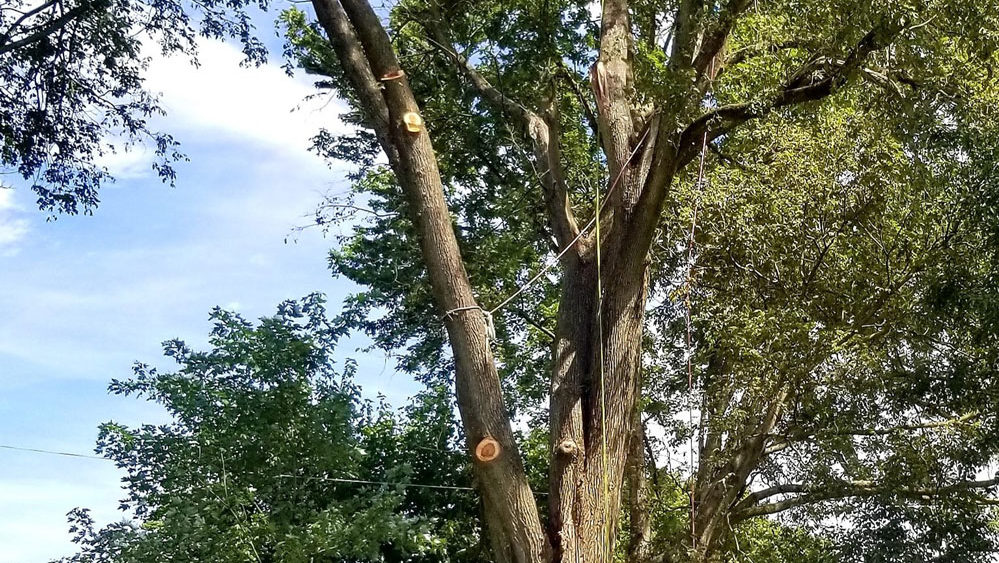 Reliable, Affordable Tree and Lawn Services in Middletown
At Greenworks Lawn, Landscape & Tree, LLC, we're more than just a tree and lawn service company. We care about our community and the environment and want both to be as healthy as possible. That's why we offer top-quality services at competitive rates for both residential and commercial clients.
Put your trust in Greenworks Lawn, Landscape & Tree, LLC for all your tree and lawn service needs in Middletown, KY. Call (502) 369-0399 today.

Fully Insured, Equipped, and Accredited.
Service for every season.
GREEN

WORKS Lawn & Tree can do it for you!
GREENWORKS Lawn, Landscape & Tree, LLC provides professional, affordable care for your commercial or residential property in Southern Indiana, Louisville, Kentucky and surrounding areas.
• Louisville, KY
• Jeffersontown, KY
• Jefferson County, KY
• Oldham County, KY
• Prospect, KY
• Saint Matthews, KY
• Shively, KY
• Middletown, KY
• Buechel, KY
• Fairdale, KY

Dedicated

Tree Professionals
©2021 GREENWORKS LAWN, LANDSCAPE, & TREES, LLC.