Tree & Lawn Service in Saint Matthews, KY
Saint Matthews, KY, Tree and Lawn Care Services
Keep your lawn in Saint Matthews, KY, looking beautiful! Call Greenworks Lawn, Landscape, and Tree for all your landscaping needs!
Greenworks Lawn, Landscape, and Tree LLC has provided quick and professional landscaping service for more than 15 years. While many of the home and business owners in St. Matthews might enjoy skillfully maintaining their lawns, there's no telling when mother nature will throw you a job a bit too much to handle. Roaming wildlife, insect infestation, storm damage, and all manner of things can leave your lawn in shambles.
On the other hand, maybe you just want to wow your neighbors with your meticulously trimmed and bountiful front yard! Either way, our affordable team of expert professional landscapers knows the value of your lawn and offers several unique care packages designed to help you keep it in tip-top shape.
At Greenworks, we strive to provide the utmost quality lawn care to both residential and commercial properties, no matter how big the job. To get a glimpse of our excellent professional services, please take a look at our customer reviews and decide if Greenworks might be right for you.
Lawn Care
Your lawn is the first impression you make on any guests you invite into your home. If the exterior isn't well taken care of, what do you think people are imagining the inside of your house might look like? Looks aren't everything, of course, but we do want to show our neighbors that we take pride in our property, however humble (or grand) it may be. Keeping your property looking good elevates the entire neighborhood, as well as its home values.
But why settle for a few minutes of mowing when you could really wow your friends and family with professionally done lawn work? At Greenworks Lawn, Landscape, and Tree, we can provide professional lawn care services in St. Matthews to make your yard look like the lush greenery of your dreams.
Our team of experts knows that every lawn requires different approaches to make it look its best. We come fully equipped with gear specialized in fostering optimal growth for your lawn, offering services such as grass cutting/mowing, weed control, fertilization, sod installation, and more!
Tree Service
Trees are a majestic and essential part of our ecosystem, providing us with clean air by feeding off the bad. However, their untended growth can be the source of significant obstructions in everyday life, especially in residential areas where poorly maintained trees can be major eyesores or can topple unexpectedly in heavy winds, doing severe damage to people and property.
Fortunately, at Greenworks, we are ready to provide a solution! Our certified arborists have the breadth of knowledge and experience to resolve any tree-related problems you may be having. The services we provide include:
● Tree Removal – We coordinate seamlessly with municipal officials to remove dead or otherwise obstructing trees from the property. Additionally, we also offer an emergency 24/7 tree removal service to clear up trees that have fallen or been uprooted safely.
● Tree Installation – We work with you, the client, to determine what type of trees best fit with the layout of your yard. Once you choose which species of tree you want, our team will work swiftly to have it put up without any fuss.
● Branch Trimming – Our team works to prune away dead wood and sucker branches to maintain each tree's health. We also cut away branches that have grown to entangle with or infringe upon other properties.
● Stump Grinding – We file down and remove unsightly stumps from your lawn.
Landscaping
Don't just maintain your property—elevate it to new heights with our top-quality landscaping services. The Greenworks team has the knowledge and experience to improve the appeal of any yard in St. Matthews, KY. Whether working on residential or commercial land, our skilled landscaping crew will work closely with our clients to define the vision they have for their properties and bring them into reality. With our 15 years of expertise in designing landscapes, our team can:
● Offer advice on planting flowers, helping you find the best-looking native, Kentucky-grown plants to use and the most fertile spots in your yard to plant them.
● Trim hedges into more organized shapes, removing dead leaves and branches to make the green stand out more vibrantly.
● Clean up any fallen vegetation left over from the fall season and remove any undesired weeds from the property after spring.
● Diagnose and repair any issues with water drainage caused by poor soil grading or clogged gutters.
We provide these and many more premium services to our clients at affordable rates. If any of our services interest you, feel free to message us right from the homepage and schedule a consultation today.
Get only the most professional care for your lawn! Please call us at Greenworks Lawn, Landscape, and Tree at 502-369-0399 to get fast and dependable lawn, tree, and landscaping service for Saint Matthews, KY.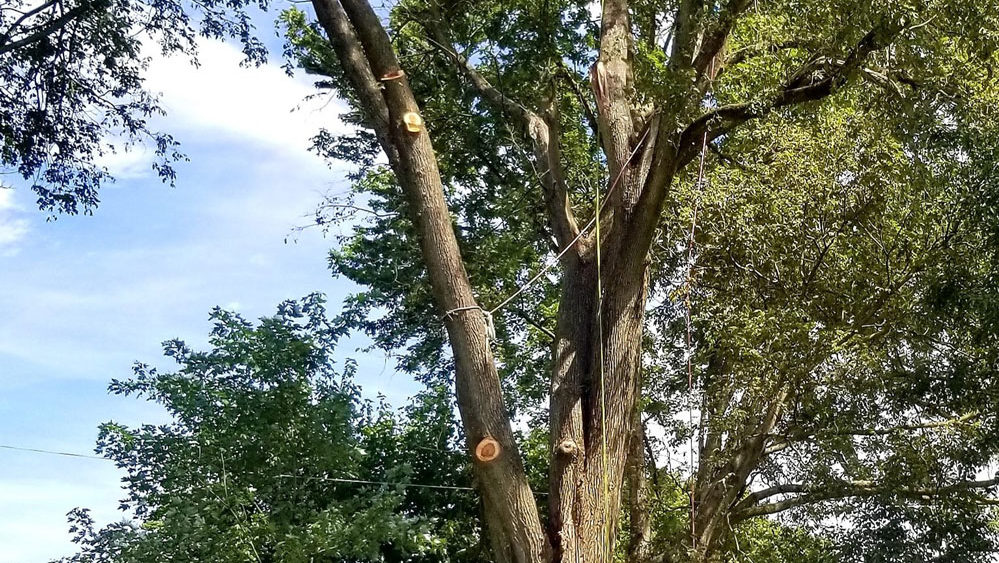 Fully Insured, Equipped, and Accredited.
Service for every season.
GREEN

WORKS Lawn & Tree can do it for you!
GREENWORKS Lawn, Landscape & Tree, LLC provides professional, affordable care for your commercial or residential property in Southern Indiana, Louisville, Kentucky and surrounding areas.
• Louisville, KY
• Jeffersontown, KY
• Jefferson County, KY
• Oldham County, KY
• Prospect, KY
• Saint Matthews, KY
• Shively, KY
• Middletown, KY
• Buechel, KY
• Fairdale, KY

Dedicated

Tree Professionals
©2021 GREENWORKS LAWN, LANDSCAPE, & TREES, LLC.