Tree & Lawn Service in Jeffersonville, IN
Hire Tree & Lawn Service to Clean & Beautify Your Property in Jeffersonville, IN
We are the best tree & lawn service in Jeffersonville, IN, for homeowners and local businesses.
When looking to bring your property to life, you probably think of what you can do with the trees, lawn, and landscaping. Our tree and lawn service in Jeffersonville, IN, allows you to save money, save time, and increase the curb appeal of your home or business.
If you are wondering who to choose, check out online reviews from our loyal customers.
Landscaping
Landscaping is an all-encompassing service that provides you with several excellent options. We can help you with:
Cleanup in the spring or fall. Without a complete cleanup, your property might not look its best.
Flowers are a great way to add color to your lawn. We can plant and tend the flowers for you, leaving your neighbors wondering why they didn't do the same.
Mulching helps outline certain parts of your lawn or garden, and we can bring in as much mulch as you need.
Shrubs are a lovely way to frame the exterior of your home, draw attention to certain parts of the property, and add color. We can transplant and install all your shrubs, cut them in the style you prefer, and remove any weeds or vines that might have invaded the area.
Sod installation is important when you feel as though grass seed will not grow. We will bring in all your sod, install it, and keep up the watering regimen to ensure that it isn't rejected.
Irrigation is an excellent way to water the lawn and ensure that everything grows properly. We install such systems for our customers and maintain them throughout the year.
Drainage systems help remove standing water from your property. Not only can we keep water off the lawn where it might drown your shrubs, plants, grass, or flowers, but we can also use drainage techniques to move water away from your basement or crawl space.
Lawn Care
When you need help with lawn care, we know that your schedule is too busy to deal with:
Mowing the lawn at regular intervals. We schedule the time you need, and we will cut the grass to your desired length. Every customer has a preference, and we want you to love your lawn when it is freshly cut.
Seeding is an important part of caring for your lawn. We will bring in the type of grass seed you need, water your lawn, and ensure that your grass is growing healthily.
Installing sod is easier when we take the reins.
Removing weeds is such a hassle that most homeowners or local businesses cannot get it done. When we arrive at your property to manage your lawn, we will remove all the weeds and spray with herbicides where needed.
Fertilizer is needed on some properties when your soil is not rich enough to support your design. We can bring in fertilizer in mass quantities as we tend to your lawn.
Aeration is also necessary if the soil is too hard or you would like to completely renew your lawn every spring.
Snow Service
We provide a snow service for customers who have parking lots, long driveways, or want to clear local streets. We can schedule a removal that arrives every time it snows, and we will provide emergency services as needed.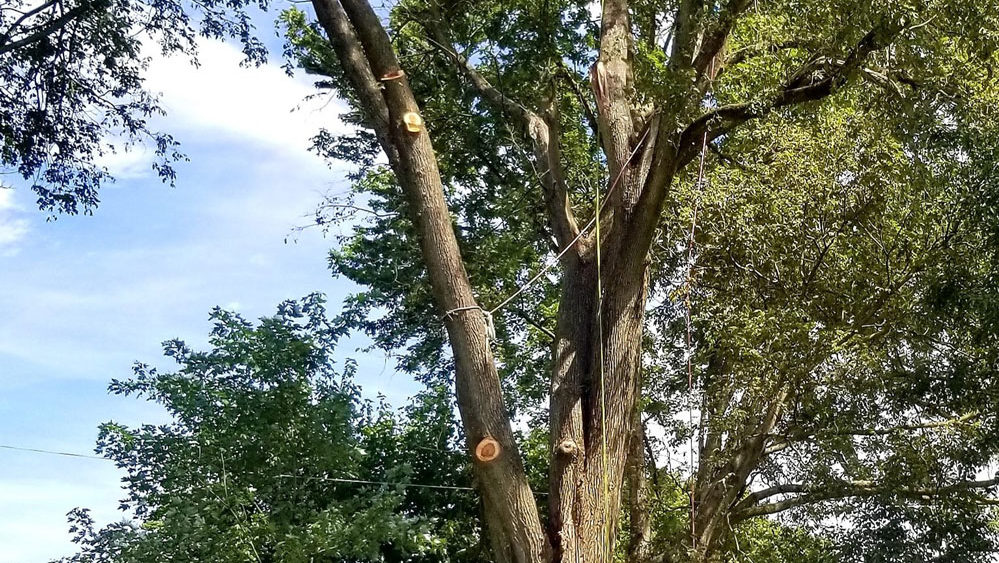 Tree Services
Our tree services are needed when you notice that your trees are dead, damaged, or dying. You should never try to handle any of these jobs by yourself:
Tree Removal
Trimming
Stump Grinding
Installation
Renting Equipment
Emergency Removal
If a tree falls in the middle of the night, call us so that it can be removed immediately. When you notice a tree is dead or about to fall over, call us before it becomes a safety hazard. We will grind those old stumps that never got removed, and we can even install new trees that you have chosen especially for your property.
We have all the necessary equipment (including cranes) to bring down even massive trees.
Contact us today for assistance with your lawn, landscaping, trees, or even snow service.
Call us today at 502-369-0399 for help with your property in Jeffersonville, IN, for a consultation and estimate. At GREENWORKS Lawn, Landscape, & Trees, LLC, we want you to have the most beautiful property possible.

Fully Insured, Equipped, and Accredited.
Service for every season.
GREEN

WORKS Lawn & Tree can do it for you!
GREENWORKS Lawn, Landscape & Tree, LLC provides professional, affordable care for your commercial or residential property in Southern Indiana, Louisville, Kentucky and surrounding areas.
• Louisville, KY
• Jeffersontown, KY
• Jefferson County, KY
• Oldham County, KY
• Prospect, KY
• Saint Matthews, KY
• Shively, KY
• Middletown, KY
• Buechel, KY
• Fairdale, KY

Dedicated

Tree Professionals
©2021 GREENWORKS LAWN, LANDSCAPE, & TREES, LLC.